THERAFLEX PAIN RELIEF CAPSULES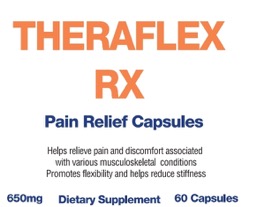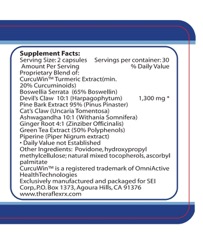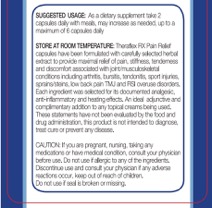 From the makers of Theraflex RX TMJ Cream, comes the new Theraflex RX CAPSULES. Theraflex RX Capsules have been formulated with carefully selected herbal extract to provide maximal relief of stiffness, tenderness and discomfort associated with joint/musculoskeletal conditions including arthritis, bursitis, tendonitis, fibromyalgia, sports injuries, sprains/strains, low back, TMJ and RSI overuse disorders. Each ingredient was selected for its documented anti-inflammatory and healing effects.

An ideal adjunctive and complimentary addition to any topical creams being used (including our Theraflex RX Cream, and Theraflex RX TMJ).

These statements have not been evaluated by the food and drug administration, this product is not intended to diagnose, treat, cure or prevent any disease. THIS IS A DIETARY SUPPLEMENT NOT A PAIN PILL. Theraflex RX® is a trademark and has nothing to do with prescriptions or any other products that may require FDA regulation.


***






THIS LINK IS FOR UNITED STATES/PUERTO RICO AND U.S. TERRITORIES ONLY!

Product Description